Director's Welcome
Welcome to our website. The Center for Community Inclusion and Disability Studies is Maine's University Center for Excellence in Developmental Disabilities. CCIDS was established at UMaine in 1992 to bring together the resources of the community and the university to enhance the quality of life for individuals with disabilities and their families in Maine and beyond. Read the entire Director's Welcome here.
---
CCIDS Welcomes 2014-2015 NH LEND Program Trainees and Community Fellows
The N​ew Hampshire​ Leadership​ Education​ in Neurodevelopmental​ and Related​ Disabilities Program (NH LEND)​ ​ ​provide​s​ graduate level training​ for students and professionals related to interdisciplinary, family-centered, culturally competent systems of care for children and youth with developmental disabilities and their ​families. ​​The program partners, the University of New Hampshire Institute on Disability, the Geisel School of Medicine at Dartmouth​, and CCIDS​ recently welcomed the ​2014-​2015 cohort of trainees and community fellows​: 17 from NH and 5 from Maine​.
​Meet the ​University of Maine LEND trainees and community fellows here.
---
Employment: the Cornerstone of Full Community Participation
Sharon Lewis, Principal Deputy for the U.S. Department of Health and Human Services, Administration for Community Living, has published a thoughtful blog post on the fundamental right to work for a competitive wage in an integrated community workplace. An excerpt: "Everyone deserves the opportunity to find and enjoy meaningful work. This includes older adults and people with disabilities. When everyone—including people who experience the most difficult barriers to employment—has the chance to contribute, we all benefit. Our businesses and our communities are stronger when we bring together the talents and perspectives of a truly inclusive workforce." Read the full blog post here.
---
"Expect. Employ. Empower."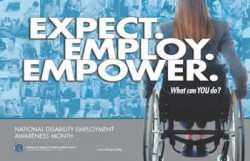 The University of Maine Center for Community Inclusion and Disability Studies is proud to support National Disability Employment Awareness Month (NDEAM). Held each October, NDEAM aims to educate about disability employment issues and celebrate the many and varied contributions of America's workers with disabilities. For more information on disability employment issues, currently disability employment statistics, and disability policy and practice, please visit the U.S. Department of Labor Office of Disability Employment Policy.
---
U.S. DOL Office of Disability Employment Policy Publishes Workplace Flexibility Toolkit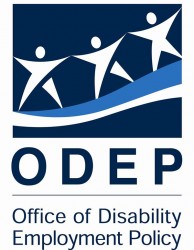 The U.S. Department of Labor Office of Disability Employment Policy and the Women's Bureau have developed the Workplace Flexibility Toolkit to meet the needs of employers and their employees, which includes when, where, and how work is done. Workplace flexibility enables both individual and business needs to be met through making changes to the time (when), location (where), and manner (how) in which an employee works. Flexibility should be mutually beneficial to both the employer and employee and result in superior outcomes. For more information go to the Workplace Flexibility Toolkit web page.
---
CCIDS Website Highlights
Featured Publications
Humphreys, B., Couse, L., Sonnenmeier, R., Kurtz, A., Russell, S., & Antal, P. (August 2014). Transforming LEND leadership training curriculum through the Maternal and Child Health leadership competencies. Maternal and Child Health Journal. Advance online publication. doi: 10.1007/s10995-014-1587-8
Kendrick, M., Bragdon-Morneault, M., May, J. and Kurtz, A. (2014). Increasing access and success in the STEM disciplines: A model for supporting the transition of high school students with disabilities into STEM-related postsecondary education. Orono: University of Maine Center for Community Inclusion and Disability Studies and Maine EPSCoR.
DePoy, E., & Gilson, S. (2014). Branding and designing disability: Reconceptualising disability studies. New York: Routledge. Retrieved from http://routledge-ny.com/books/details/9780415635387/
Featured Resources
Updated: 10/27/2014